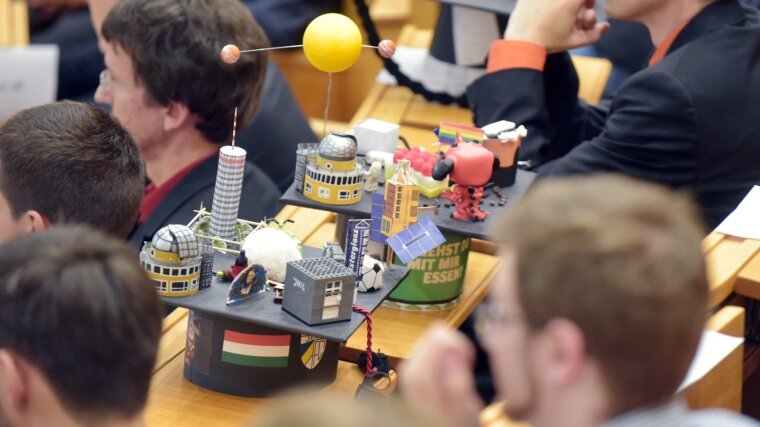 Junior Scientists
Interested in doing your Ph.D. or habilitation?
Graduates with their traditionally self made graduation caps at the alumni day 3rd June 2016
"To become a doctor is a confirmation of the mind," the German writer Georg Christoph Lichtenberg wrote in the 18th century. Last year, about forty young scientists were confirmed at our faculty. You have entered an unknown scientific territory during your doctoral thesis and got to know your field as well as hardly anybody on this earth. You have investigated, modeled and calculated particular aspects of complex systems experimentally and/or theoretically. In doing so, you have learned to ask meaningful and relevant questions to nature and then also to answer them. Whenever a mathematical modeling of real systems is required and empirical methods are used to gain new insights, physicists are in demand. The interaction of theory and experiment is the driving force. The transfer of successful falsifiable physical methods with reproducible results to other sciences will be one of the exciting tasks in the future.
The topics presented in the dissertations reflect the breadth of physical research in Jena. They deal with problems of astrophysics, solid state physics and material sciences, gravitational and quantum physics as well as optics and laser physics.
Every year the best thesis are awarded with prizes usually at the Alumni Day. Furthermore there is a prize to support the work on the doctoral thesis. The prizes are donated by several sponsors.
Dean's Office
Room 204 -206
Max-Wien-Platz 1
07743 Jena
Opening hours:
Monday -Thursday 7:30 - 11:00 a.m. and 14:00 - 15:00 p.m.
Friday by arrangement

Consulting to the Ph.D. procedure:
Dr. Unkroth +49-3641-9-47003

Ongoing Ph.D. procedures:
Ms. Ullrich +49-3641-9-47001