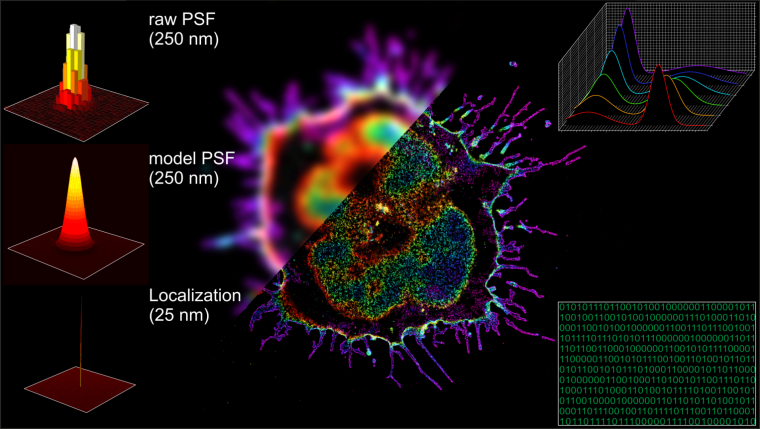 Digitized Experimental Microscopy
Jun.Prof. Dr. Christian Franke
quantitative Single-Molecule Localization Microscopy is the core of our work.
Information
Seeing is believing. The newly established research group of Christian Franke is focused on the development of advanced optical and computational tools for the quantitative study of (cell-) biological questions. On one side, we work to advance super-resolution microscopy methods like single-molecule localization microscopy (SMLM, e.g. dSTORM, PALM) and random structured illumination microscopy (nanoSpeck3D) to quantitatively study the structure-function relationship of sub-cellular (trafficking) organelles, e.g. endosomes, with three-dimensional nanometer resolution. Here, we create novel hard- and software tools to push the limits of 3D volume, colour and time resolution. For this, we have home-built microscopes in our labs in the Abbeanum and are in close collaboration with the Eggeling group at ZAF and IPHT, providing a large range of complementary microscope setups. Recently, we branched out into macroscopic measurements of 3D volumes by stereophotogrammetry, a project led by Dr. Andreas Stark, also utilizing structured illumination, with which we can now measure objects on the centimeter to micrometer scale, thus bridging dimensions between the macro- and nanoscopic world. TBC
Single-Molecule Blinking of Fluorescent Dyes

Video: Christian Franke
Single-Molecule Blinking of Fluorescent Dyes - Every spot represents a nanometer size dye molecule, imaged in a wide-field microscope onto a EMCCD chip. Detecting single molecules allows us to create super-resolution fluorescence images way beyond the Abbe diffraction limit.
Institute of Applied Optics and Biophysics - Group Experimental Digitized Microscopy
Helmholtzweg 4
07743 Jena
Postal address:
Friedrich-Schiller-Universität Jena
Institut für Angewandte Optik und Biophysik
Max-Wien-Platz 1
07743 Jena